MEDIA-SCAPE 7 - Zagreb April 17th - 24th 1999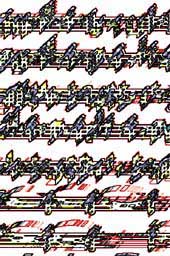 Musej Suvremene Umjetnosti, Zagreb / Museum of Contemporary Art, Zagreb
VIDEO DOCUMENTATION- Exhibition
"The introduction of phonetic symbols, that represent ideas and the introduction of written characters that represent the phonetic symbols were the first steps in the development of human mind." (Diderot)
Media-Scape 7 focus on the ear as one of the major receptive organs of the human body in relation to visual arts. The Museum of Contemporary Art will host an exhibition / symposium in cooperation with the 20th Zagreb Biennal of New Music in April 1999. It follows a series of highly successful media-art events presented in Zagreb from 1991 to 1998. Participants will include artists, researchers, cultural theorists, presenting organizations, academic institutions, and others working with audiovisual arts. Events will include performances, exhibitions, symposia, experimental music and new media arts. A listening room will provide an opportunity to hear a wide variety of recorded sound works in an informal setting. Media-Scape 7 will bring together local and international artists to explore the varieties of culture that are perceived through ears and eyes.
Sound as art was often neglected in the field of fine arts, even when audition is one of our major senses and music as an time-based artform has a history of 4000 years. The stimuli that are detected by the ear in conjunction with the visuals, create what is supposed to be the primary orientational perception of our surrounding world.
In the second half of our century sound and music turned more into focus of the fine arts context e.g. as part of spatial environments and objects, of happenings, performances and esspecially in combination with the moving image. New types of synergetic forms were invented, were sound or music played an important or the important role.
Media-Scape is an outstanding event of its kind in Croatia. Media-Scape's unique focus presents an opportunity to expose experimental sound work, expanding boundaries, and demonstrates links, crosscurrents, and diversity in the contemporary audio-visual arts.
Media-Scape 7 was made possiible possible through the support and participation of a large number of local and international institutions.
---
Sound as Sound: .....zzzzzttttt......zzzzzttttt Graphical Sound / Graphical Music Notation: abstract abstractions Sound and Image / Moving Image: watching ears, listening eyes Sound as Object: grasp waves ! Sound as Space: environmental experience Synergetics / Multimedia: Bach´s Dream Listening Room: Explore a panorama of today´s comtemporary electronic and electro-acoustic music. Speech on Sound and Image: Symposium, postersessions, lectures and discussions. Artists and researchers will provide arguments for eyes and ears.
Exhibition
Museum of Contemporary Art, Katarinski trg 2, Zagreb
18. April, 12 :00 p.m. Opening Exhibition

Sound Installations
Dror Feiler / Gunilla Skoeld, Peter Hutter, Jaap de Jonge, Robin Minard / Lydia Karbowska, Elisabeth Son / Martin Davorin-Jagodic, Heiko Daxl / Masami Akita, Zakiah Omar / Hanno Baethe / Thomas Marquard

Graphical Notations
Niksa Gligo, selection from his private collection
Sound ambient
Kristina Leko, Cake Shop, zagrebacko slasticarsko ugostiteljsko poduzece, Gunduliceva 5
Symposium
Croatian Composers Society, Berislaviceva 9, Zagreb
19. April, 15:00 - 18:00 p.m.
Dror Feiler / Gunilla Skoeld, Robin Minard, Elisabeth Son / Martin Davorin-Jagodic, Jaap de Jonge
20. April , 15:00 - 18:00 p.m.
Sabine Sanio, Niksa Gligo, Ingeborg Fuelepp, Heiko Daxl