Medienkunst aus Berlin

Video, Performance, Installationen, Dokumentationen, Musik, Multimedia, Interaktion, Stills und Objekte aus den ersten 6 Jahren des 3. Jahrtausends.
Anna Anders, Dietmar Arnold, Jovan Balov, Sandra Becker, Ana Bilankov, Noam Braslavsky, Michael Brynntrup, Daniela Butsch, Genia Chef, Heiko Daxl, Claus Feldmann, Hanna Frenzel, Ingeborg Fülepp, Steven Gagnon, Archi Galentz, Monika Funke, Margita Haberland, Gab Heller, Sanja Ivekovic, Franz John , Kain Karawahn, Susanne Kienbaum, Betina Kuntzsch, Ilka Lauchstädt, Walter Lenertz, Antal Lux, Benoit Maubrey, Bettina Munk, Mona Mur, Sven Holly Nullmeyer, Günther Petzold, Claudius Pratsch, Klaus Riech, Susken Rosenthal, Ilse Ruppert, Mariko Sakamoto, Joachim Seinfeld, Lisa Schmitz, Ira Schneider, Jan-Peter E. R. Sonntag, Thorsten Streichardt, Signe Theill, Clea T. Waite, Eku Wand, Ute Weiss-Leder, André Werner
Franz John
Turing Tables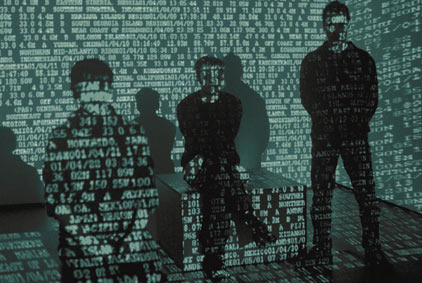 An Untitled Composition for Tectonic Spaces
Pro Jahr ereignen sich mehrere Millionen Erdbeben von unterschiedlicher Stärke. Die Daten dieser Beben werden in seismologischen Instituten in der ganzen Welt gemessen, gesammelt und durch automatisierte Internetübertragungen untereinander ausgetauscht und kommuniziert. Diese Meta-Wahrnehmung macht Franz John in seinem Projekt »Turing Tables« sichtbar, indem er die Daten dieser Mensch-Maschine-Kommunikation direkt von Fingerservern abgreift und online in eine Raum-installation überleitet
In Sekundenschnelle werden die Messungen der seismologischen Stationen in dieser Rauminstallation in Klang und Bild umgesetzt. Aus der Perspektive des »globalen Auges« Internet ist der Betrachter so direkt mit dem pulsierenden Erdinnern verbunden. Es geht also nicht um die Katastrophen, die diese Bewegungen in bewohnten Gebieten auslösen, sondern um das archaische Gefühl und Bewusstsein, dass die Erde ein Organismus ist, der sich bewegt und in beständiger Veränderung begriffen ist.
»Diese künstlerische Umsetzung basiert auf einer Maschinen-Theorie des Mathematikers Alan Turing, wobei in meinem Vorhaben nicht Zahlenketten, sondern die tektonischen Kräfte und Energien auf einer sich selbst fortschreibenden und stetig sich erneuernden Matrix sichtbar gemacht werden.«
Ein Projekt in Kooperation mit dem Klangkünstler Ed Osborn (Oakland/CA) und brsma (Berlin).
Turing Tables
An Untitled Composition for Tectonic Spaces
Several million earthquakes of different intensities occur each year. Seismological institutes throughout the world measure these vibrations and exchange and communicate this collected data among themselves via automated internet-transfers.It is this meta-percep-tion that Franz John makes visible in his project "Turing Tables," siphoning this human-machine-communication data stream directly from finger-servers and bringing it into his online installation.
In a matter of seconds, this installation converts these measurements from the seismological stations into sound and image. From the perspective of a »global eye« the internet directly connects the observer with the pulsating core of the earth. This project is therefore not about the catastrophes that cause these movements in inhabited areas, but instead about the archaic feeling and consciousness that the earth is an organism, that it moves and that it can be understood as an organism in constant flux.
"This artistic realization is based on the machine-theory of the mathematician Alan Turing, wherein my interest is not in the number-chain itself but rather in the tectonic forces and energies of a matrix which is visibly and continually updating and renewing itself."
A project in collaboration with sound artist Ed Osborne (Oakland, CA) and brsma (Berlin).
CV
•1960 (D); lebt als freier Künstler in Berlin; 1978 –- 1984 Studium Visuelle Kommunikation, Würzburg; Seit 1981 Beschäftigung mit '"neuen'" und '"alten'" Medien an der Schnittstelle zwischen menschlicher und maschineller Wahrnehmung. 1989 u.1991 Teilnahme an der Biennale von Sao Paulo (Brasilien); 1996 Artist in Residence, Headlands Center for the Arts, San Francisco; 2001 u. 2003 Gastdozent, Ohio State University (Department of Art); 2005 ""Die Salztangente"", Skulptur-Biennale Münsterland; 2006 ""Turing Tables"", Museum Exploratorium, San Francisco, USA.