Martina Menegon & Stefano D'Alessio
"Doppelgaenger"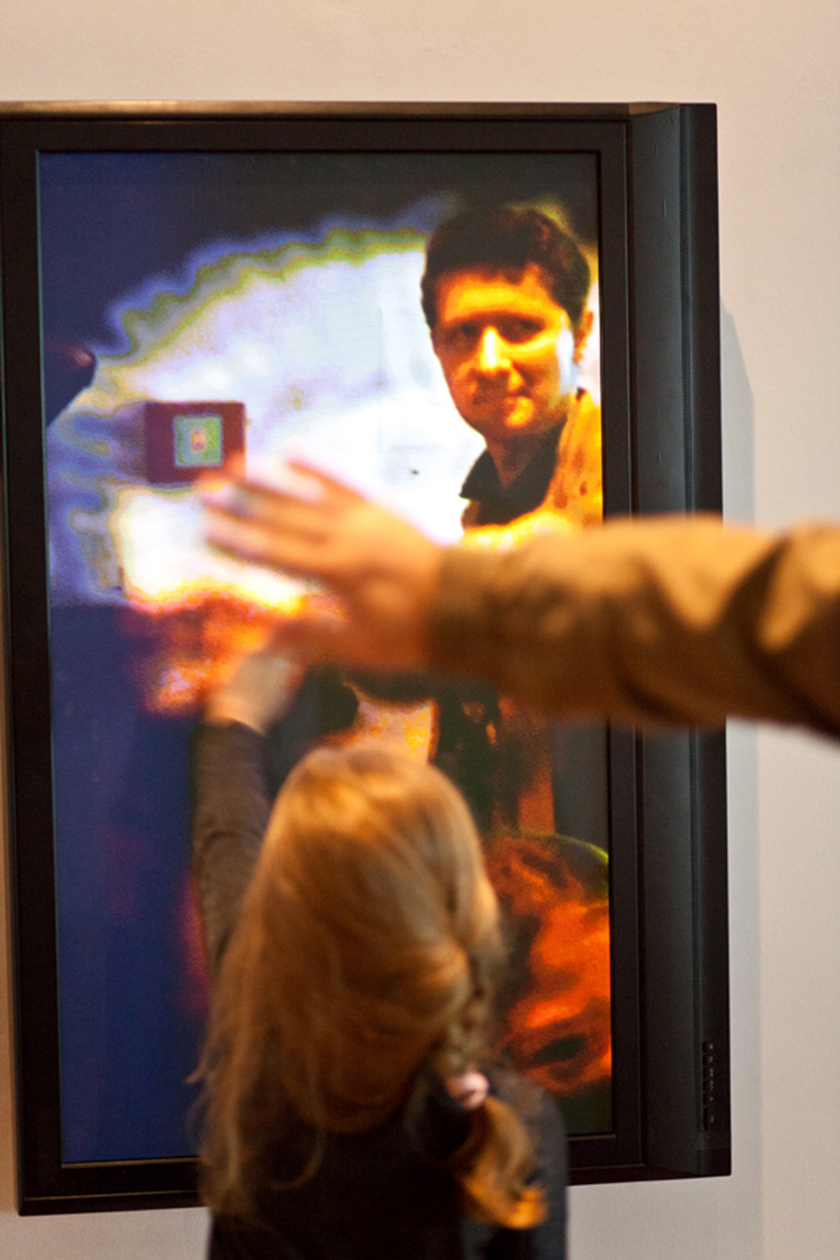 Interactive installation 2012
A black screen is standing in the space. No images can be seen through it, no sounds is reproduced. From first impression it seems just a switched off screen. But as far as somebody is passing in front of it, or is just standing near and moving, something appear and suddenly disappear again.
The screen is not only a simple monitor, is a shadow in front of what is real. In fact, by moving, is possible to delete the darkness, and let the image passing through it and be visible. The screen is a shadowed kind of mirror, but dispite of simple mirroring, it shows only what is moving, it shows only what is acting in the real, and delete what is static.

Cvs
Martina Menegon
http://martinamenegon.tumblr.com/
lives and works in Vienna.
Her works are mainly multimedia and interactive installations, performances and motion designing.
She gratuaded in Visual and Performing Arts at University IUAV of Venice in 2010. She is now student in Brigitte Kowanz Transmedial Art class at Die Angewandte University in Vienna.
Since 2010 she is one of the assistents of Klaus Obermaier at the IUAV University of Venice and is also part of his team for The concept of...here and now performance. Since November 2010 she is co-founder of the Locker Gallery Association.

Stefano D'Alessio
http://cargocollective.com/stefanodalessio/
Stefano D'Alessio lives and works in Vienna. He gratuaded from Visual and Performing Arts at IUAV University of Venice in 2010. He currently is student in Brigitte Kowanz Transmedial Art class at University fo Applied Arts in Vienna.
His works are mainly interactive installations, performances and experimental music.
Since 2010 he have been working with Klaus Obermaier, teaching multimedia programming in his class at IUAV University, and being part of The concept of... here and now performance team, as programming and technical assistant.
Since November 2010 he is co-founder of the Locker Gallery Association .
Recently he collaborated in the realization of Muybridge! Muibridge! a theater performance by Office for Human Theater, and took part in the realization of the interactive dance performance MetaMorphyco by Anagrama Coreografico