<<< Thomas Gerwin / Wolfgang Spahn >>>
"augen-auf-schlag" (strike-the-eyes)
An interactive sound-light-installation, 3 projectors with Ferro-Fluid (red, blue and green), 3 Arduino-controller, pane of glass
with projection screen, drum pad, PC, Pure-Data-Patch, loudspeakers, boosters, 2008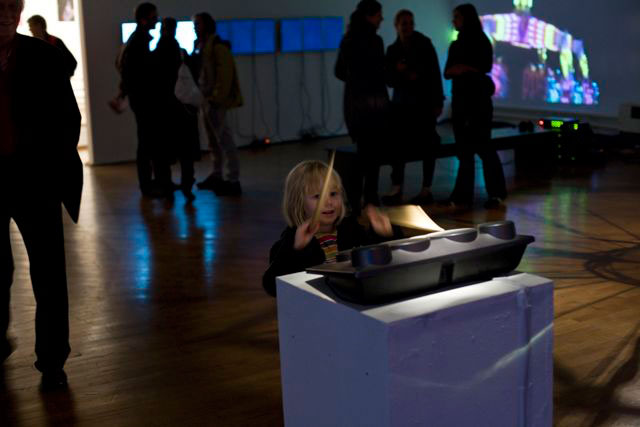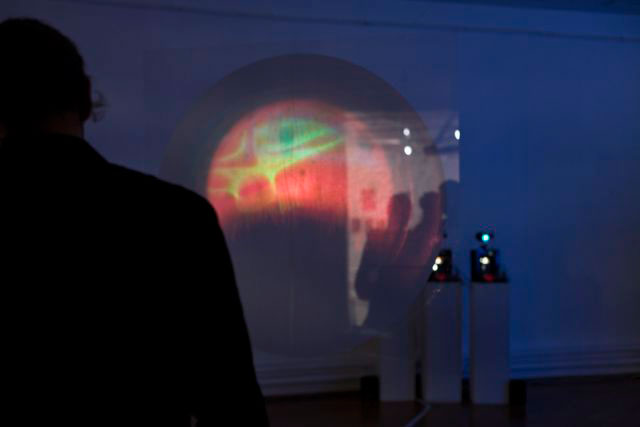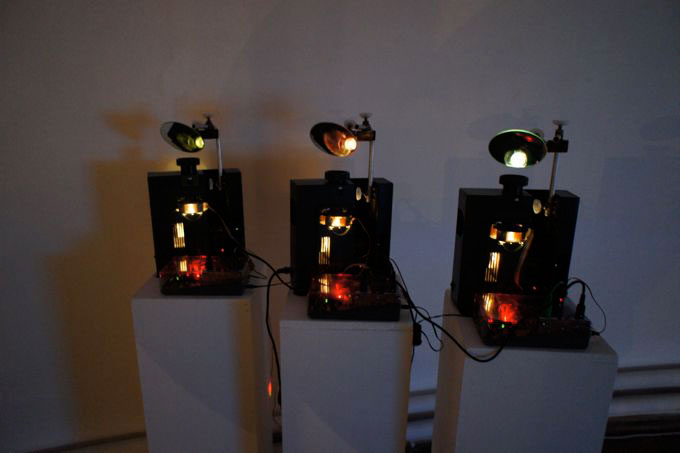 This interactive sound-and-light-installation is a work of cooperation between the composer and sound artist Thomas Gerwin and the media artist Wolfgang Spahn. It is considered as an instrument to generate and play sounds and liquid colours at the same time.
Three over-head-projectors, especially designed and developed for this purpose, are filled with a mixture of coloured liquids and Ferro-Fluid. In each projector these liquids can be activated and stimulated by 4 magnetic coils.
Face to face stands a Midi-Drum-Pad containing three small and four big pads, which can be played by the visitors. There is a PC with an Pure-Data patch running, to produce the sounds. Triggered by the Midi signal the three Arduino-controllers come into action and therefore stimulate the magnetic coils, depending on note and dynamics of the drum pad.
Each of the three small pads symbolize one of the three RGB colours, while the other four pads stand for four directions: above, below, left and right. If someone hits one of the pads, the according liquids in the projectors will react. Between the projectors and the drum pad there is a pane of glass hanging down, covered by a round projection screen. On that screen the three monochrome colours are projected to create one full colour projection. The mixture of the liquids as well as the whole system are developments by the artist.
The Sound Concept: A sound environment defines the space imagination around the installation. At the same time it offers the player a rhythmical musical accompagniement which makes the live performed sound actions on the drum pads a 'solo con tutti'. The variety of sounds offered on the drum pad point to different musical genres. Timpani and grand cimbales sound like classical orchestra, Tamtam like Asian music, snare drum and hi-hat sounds jazzy, a conga Brasilian, a scratch sound like rap/funk music and the sound of a big water wave points to Musique concrete. This ways it's possible to create a great spectrum of sound world associations. Another important idea behind this project was to inaugurate musical events and structures not only out of the ear - but to enable an original audiovisual creation of 'colored music'.
Thomas Gerwin is a classically educated composer and performer. He came into the field of electroacustic music very early, later he intensively worked on the development of soundscape composition and sound art. Today he composes radio art and concert performances – with and without traditional music instruments and creates sound and video installations for public spaces and festivals as well. He is founding director of "inter art project", artistic director of yearly "International Sound Art Festival Berlin" and of montly concert series "KlangWelten ad hoc". Solo or with his ensembles "laut_bewegt", "Welt am Draht" and "Kammer Ensemble ad hoc" he performs percussion with unusual sound objects and live electronics on a loudspeaker orchestra.
He was awarded with several national and international prizes and stipends, his works are released, publicly shown and broadcasted worldwide.

"Sounds are beings. They were born, spend a discrete life span on distict locations and then die. Most of them love to form social organisms.´"

Wolfgang Spahn is Austrian born 1970 in Germany. Works and lives in Berlin. Studies of mathematic and sociologic in Regensburg and in Berlin. 1994 - 1997 manager and member in "Kunst und Kulturverein Schokoladen". 1997 - 2000 member
in "Kunsthaus Tacheles". 1998-2000 head of the screen printing shop in the " Kunsthaus Tacheles". 2000–2002 member in "Kunsthaus Meinblau". Taking part on
different exhibitions in Germany.